National Finance Awarded The 'Best Non-Banking Financial Corporation' Title and Other Coveted Awards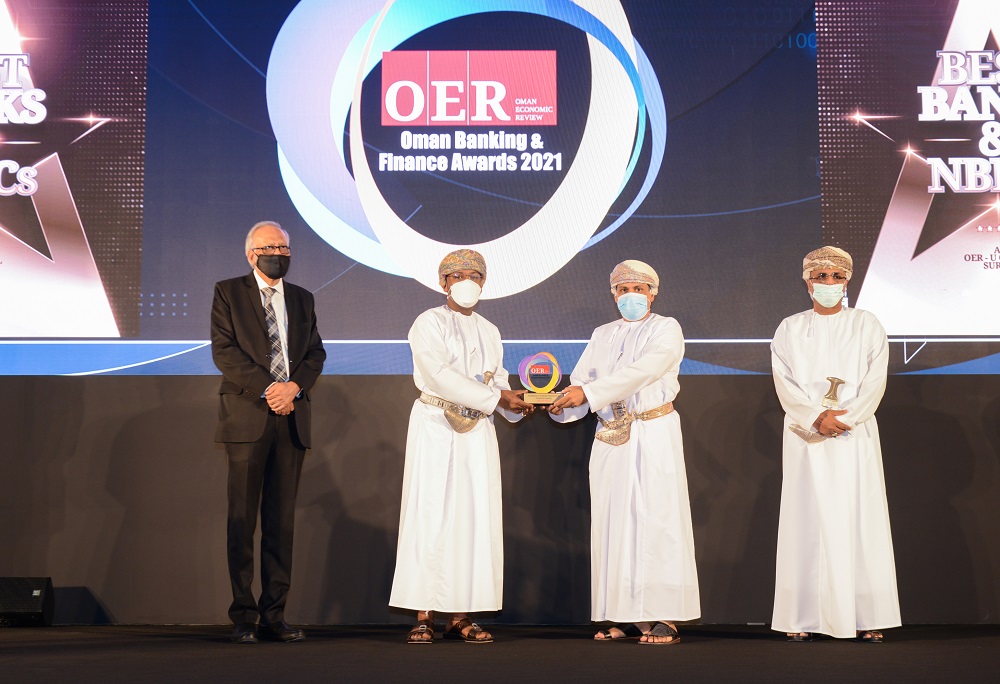 Being recognized for its innovative financing and leasing solutions, and notable achievements in digitalization, the Sultanate's largest finance company, National Finance, recently won four awards at the Oman Banking & Finance Awards 2021 which was co-located at the sixth edition of the New Age Banking Summit Oman.
National Finance was honored with coveted titles including the 'Best Non-banking Financial Corporation', 'Excellence in Customer Experience in Finance & Leasing', 'Excellence in Mobile App based Finance & Leasing Services' and 'Excellence in Fintech".
His Excellency Tahir Al Amri, the Executive President of the Central Bank of Oman (CBO), was the chief guest of the event, and presented the awards to Ali Al Mani, Deputy Chief Executive Officer of National Finance, at an event that took place in the Majan Ballroom, Al Bustan Palace, Muscat.
Expressing his pleasure on this milestone, Mr. Ali Al Mani said: "These prestigious awards add yet another feather to our cap. They recognize our objectives in achieving excellence in customer experience and uplifting the finance sector in the Sultanate. These achievements cement our leading position in the market and strongly aligns with our robust growth strategy that focuses on the clients as a first priority. The company will continue marching toward market excellence and innovation to deliver high end services and add value to its clients."
This accomplishment is exemplary of National Finance's outstanding performance, that is backed by unique solutions for customers and a diverse portfolio of easily accessible products. Over the last three decades, the company has worked unceasingly towards providing easy, fast and flexible solutions that meet the client's various requirements.
Aspiring to enhance customer engagement, the company has been ahead of the curve in adopting digital solutions that focus on ease and convenience. It invested into several technologically advanced solutions to enhance its e-channels such as the mobile app and website.
"These accolades serve as a testament to National Finance's efforts in not only creating value for retail clients, but also supporting local entrepreneurs and SMEs. Such efforts resonate with national priorities that seeks to stimulate economic diversification and achieve Oman Vision 2040, ultimately creating a diversified and sustainable economy.", Al Mani he added.
Powered by OER, National Banking Summit Oman is hosted by His Excellency Shaikh Salim Bin Mustahail Al Mashani and supported by Oman Banks Association. The event was attended by industry leaders in banking, fintech, finance & investment professionals, insurance experts and business consultants. A panel discussion was conducted during which panelists deliberated on various subjects that include rapid changes in the world of financial services, digital transformation, business sustainability and financial inclusion.
National Finance, established in 1987, has built a reputation as the market leader trusted by thousands of customers across the Sultanate. National Finance offers a wide range of products targeting both individual customers and Small and Medium Enterprises (SMEs) through its 20 branches across the Sultanate. Recognizing its efforts, the company won many accolades recently such as the 'Best SME Finance Solution 2021' award by Capital Finance International (CFI.co) and the 'Most Innovative Retail Finance – Automobile – Oman 2021' Award by International Finance Awards.