National Finance and Sharakah Supports Six Local SMEs through Imtidad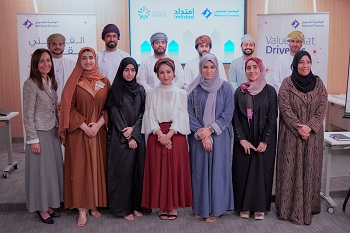 National Finance, Oman's leading finance company continues its partnership with Sharakah to support six local micro and small enterprises through its SME Growth Programme. The initiative will enable selected SMEs to identify areas of improvement in their operations and assist them in implementing effective strategies to enhance their business profitability.
"At National Finance, we are committed to supporting the growth and development of SMEs in Oman. Our collaboration with Sharakah in this venture demonstrates our commitment to empowering entrepreneurs and helping them establish successful businesses. We are confident that such partnerships create a positive impact on the participating entrepreneurs and contribute to the development of the SME sector in general," said Lina Al Abdulsalaam, Head of Marketing and Corporate Communication.
Sharakah, the implementer of the initiative, received a strong response to the programme, with 225 registration forms submitted within just one month of opening the application process. After a rigorous selection process, 20 projects were shortlisted and interviewed, with six ultimately chosen to participate. Sharakah will conduct a comprehensive review of the projects, covering seven critical areas of the business. Based on the findings, a detailed plan will be developed to address the identified gaps and make the necessary improvements in each of the critical areas. This approach will ensure a thorough and targeted strategy to enhance project performance and overall success.
"The SME Growth Programme provides entrepreneurs with comprehensive business strategies over a 12-month period," said Faris Al Harthy, Senior Project Specialist.
The selected entrepreneurs attended an orientation session at the National Finance Head Office, where they were introduced to the attendees along with their businesses and signed an agreement to commit to the programme. The initiative will kick off with site visits for the first assessment and an action plan will be developed for each project.
National Finance, under Imtidad – partners with the Fund for Development of Youth Projects (Sharakah), to support a series of educational programmes in Financial Planning that facilitate the development of both youth and Small and Medium Enterprises (SMEs) across the Sultanate of Oman. The successful partnership, now in its fourth year, has benefitted more than 500 participants, enhancing the skills of future entrepreneurs, helping them realise their potential and developing their projects.