National Finance collaborates with Bank Muscat to launch innovative Online Direct Debit solution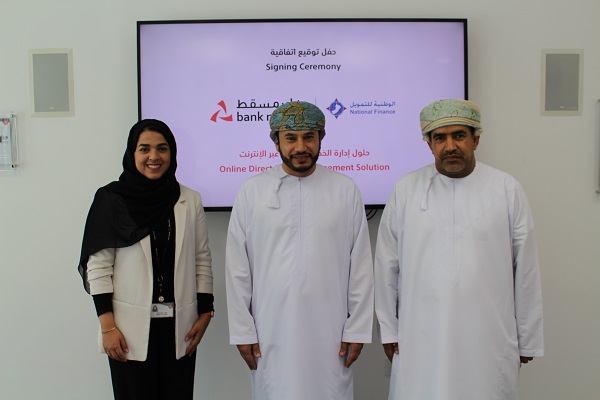 Bank Muscat, the leading financial services provider in the Sultanate, has signed an agreement with National Finance for its cutting-edge online Direct Debit solution. National Finance is a diversified non-banking finance company, which provides a wide array of financial products to a robust base of retail and corporate customers. Through this agreement, Bank Muscat continues to leverage its technology prowess to provide customers with the most innovative digital banking solutions that deliver fast and seamless payment and collection solutions, thereby, enhancing their banking experience. National Finance, which already uses Online Banking, will now also use the bank's Collection Solution of Online Direct Debit for managing the payments from their customers. The agreement was signed by Wafa Ibrahim al Ajmi, Assistant General Manager, Bank Muscat and Juma Al Khamisi, General Manager – Finance & Operations, National Finance.
Speaking on the occasion, Wafa Ibrahim al Ajmi, Assistant General Manager, Bank Muscat said, "Our corporate clients are increasingly focused on improving the end-user experience of their customers, with integrated solutions that offer more choice and convenience with flexible payment options and simplified user experiences. We are delighted to bring National Finance onboard, a leading non-banking finance company in the Sultanate to our sophisticated Collections Solution of Online Direct Debit. Our Online Direct Debit Solution will enable National Finance to collect payments directly from accounts of their customers, thus, automating the entire collection process while minimising credit risk and reducing collection cost. The new digital service is based on the bank's belief in the importance of achieving the highest level of services provided to its customers in a manner that meets their needs and keeps pace with the latest banking trends while providing the highest level of security."
Juma Al Khamisi, General Manager – Finance & Operations, National Finance, said, "We are launching Online Direct Debit for our collections in collaboration with Bank Muscat, which aligns with our strategy of digital transformation of all aspects of our operations. We are proud to partner with Bank Muscat to use the bank's state-of-the-art digital collection solution, which is a smart, innovative and completely digital service helping us to vastly improve our operational efficiencies. This service will greatly enhance our customers' experiences and provide them with a convenient method for making payments of their loan obligations on time. It will also facilitate efficient financial settlement with automated reconciliation processes."
Bank Muscat's Online Direct Debit is a digital collection solution, which provides corporates with a convenient mechanism to manage their recurring payments from their customers. This solution provides improved working capital management and predictability in liquidity management with automation in the collection of funds. The solution eliminates the need for paper-based payment instructions for recurring payments and manual tracking of payment deadlines. The solution provides the flexibility of submitting debit mandates online and initiation of direct debit collection by the corporate themselves through a transaction banking platform. The solution also offers Secured 'Host to Host' connectivity for automatic Enterprise Resource Planning (ERP) integration. The Online Direct Debit solution facilitates the collection of utility bills, repayment of loans and mortgages, credit card bills, systematic investments, insurance premiums and more, and is available to Corporates, Government Institutions and SME customers.
As the trusted banking partner in Oman, Bank Muscat is committed to supporting corporates to make a mark in digitalisation to create a successful business environment. Bank Muscat provides a complete range of products, services and technology-driven digital offerings catering to government entities, corporates, SMEs and the retail industry in the area of Payments, Account services, Collections and Receivables, Liquidity solutions, Point of Sales (PoS) terminals, Payment Gateway etc.
Earlier this year, Bank Muscat had announced the launch of its 'Integrated Transaction Banking Platform', as part of the bank's digital transformation plan, which offers a wide range of online capabilities including payments, a consolidated dashboard of bank accounts across all banks, Direct Debit solution, Virtual accounts and Liquidity solutions.
National Finance, established in 1987, has built a reputation as the market leader trusted by thousands of customers across the Sultanate. National Finance offers a wide range of products targeting both individual customers, Small and Medium Enterprises (SMEs) through its 20 branches across the Sultanate.