National Finance Set for a New Era of Growth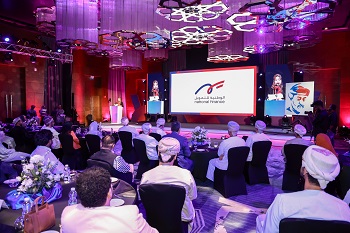 National National Finance, the top financing and leasing company, has recently announced its renewed business direction and commitment to expansion, as part of its strategic plans for organisational transformation and enhanced customer experience. The company unveiled its new branding at a high-profile event held at the W Muscat, which reflects its unmatched strengths and fresh identity. These adjustments align with the company's evolution towards a new identity and are part of its ongoing efforts to stay at the forefront of the industry.
"We are excited to be entering into a new phase of structured growth. A new National Finance, while staying true to our tradition of being fast, easy and flexible, represents our vision for the future, as we continue to improve and grow. At the heart of everything we do remains our unwavering commitment to our customers, employees and partners. With our new branding, we are taking the entire look and feel of our brand to the next level. The company is evolving and we view this as a perfect opportunity to enhance our brand position in the market," said Tariq Al Farsi, Chief Executive Officer of National Finance. "Our renewed sense of purpose across the company embraces change and progress. This year marks a significant milestone for National Finance, as we continue to accelerate our vision to become a "Partner for Growth," he added.
The finance company's vision is to be the provider of choice for comprehensive financial and leasing solutions in its markets of operation. The company's mission is to deliver the right financial solutions on time, exceed customer expectations through partnership and continuous improvement and provide an inspiring workplace for hard-working and dedicated people who believe in the company.
"A focus on the youth of Oman is an essential component of our improved strategy. The young population of Oman is increasing at a rapid pace and National Finance recognises the need to cater to their financial needs. As such, National Finance aims to provide innovative financial products and services that are customised to meet the specific requirements of the younger generation. The second key focus area going forward is technology. With technology transforming the financial sector globally, the company aims to leverage technological advancements to deliver innovative financial solutions to its customers. By investing in cutting- edge technologies, National Finance plans to create a seamless and personalised customer experience, enhance operational efficiency and improve risk management," said Al Farsi.
National Finance also acknowledges the importance of its partners in achieving its goals. The company recognises the contribution of the board of directors, management, stakeholders, partners, regulators and employees as part of the company's success.
As a pioneer in the industry, National Finance has earned the trust of thousands of customers across the Sultanate for more than 35 years of experience. It offers tailor-made products through its network of 21 branches, which allows it to meet the various needs of a changing market.