National finance Awarded 'Best SME Finance Solution Oman 2021' by Capital Finance International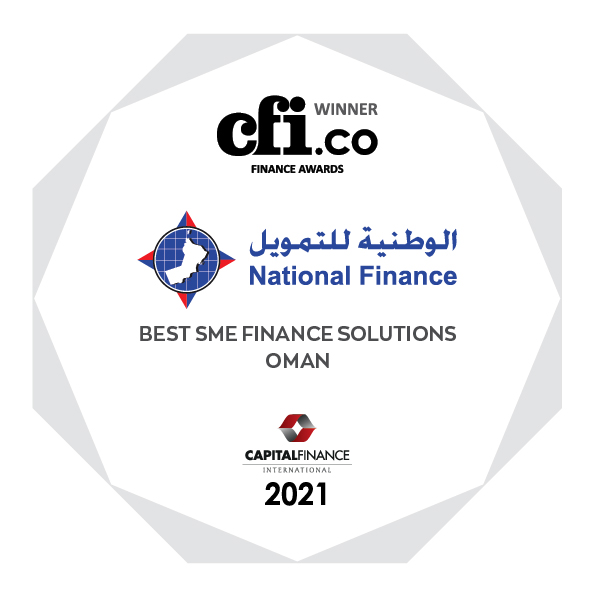 National Finance, Oman's leading finance company, was recently recognized with the 'Best SME Finance Solution 2021' award by Capital Finance International (CFI.co). The accolade came to recognize National Finance's sterling efforts in supporting the development of the local SME ecosystem and its tailor-made financial solutions for this category.
National Finance's easy, fast and flexible solutions dedicated for SMEs, reflects the company's belief in the significance of the SME sector and their role in the socio-economic development of the Sultanate. Over the past three decades, National Finance has directed its recourses to meet clients' requirements and fulfil their aspirations. The company's efforts come in line with the national priorities that aim to stimulate the economy, ultimately achieving the objectives of the Oman Vision 2040, seeking to create a diverse and sustainable roadmap for overall progress.
"We are proud of this accomplishment. This award serves as testimony to the company's endeavors toward uplifting this vital sector by supporting SMEs and encouraging Omanis to enter the field of entrepreneurship. National Finance will constantly strive to add value to local talents and support them in achieving their business goals," Mr. Robert Pancras, Chief Executive Officer at National Finance.
National Finance, established in 1987, has built a reputation as the market leader trusted by thousands of customers across the Sultanate. National Finance offers a wide range of products targeting both individual customers and Small and Medium Enterprises (SMEs) through its 20 branches across the Sultanate.
Headquartered in London, CFI.co is a prestigious magazine and online resource reporting on business, economics and finance. Its highly credible award programmes, aim to identify individuals and organisations that truly add value to their respective customers and community.